You may know that Skechers is coming out with a sweet new running shoe, SRR (Skechers Resistance runner) in July 2010– I of course– have been running in them for the last few months… well, because I have connections wink wink.
(they will be available at select finish line stores, famous footwear, nordstroms, Academy, Modells, Lady Foot Locker, Foot Locker, Hibbetts, TSA, skecher stores and online right away at roadrunnersports.com.)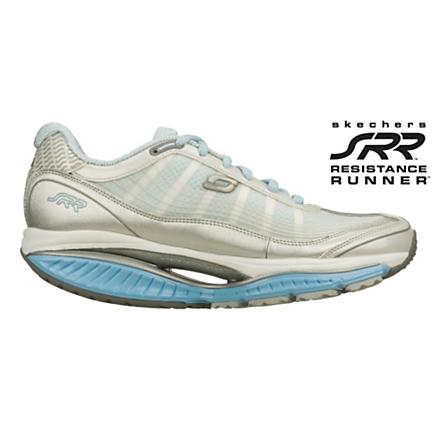 They are by far the most comfortable ride in running shoes I have ever felt.  (Because of their rocker bottom and smooth ride they almost do the work for you.. jk. i wish.)
So… I may not be the biggest fan of Nike running shoes — (unless they are the Free or the Vomero feels super comfy too but only 2 exceptions from me)– but I am ADDICTED to my Nike Plus IPod system.
Seriously, that thing keeps me more motivated than anything in the world.  I love it!
I plug it into my ipod, set a goal, run… runn…. and runnnn.   When I am done,  I wait, sweating profusely, can't breathe…crossing my fingers.. anxiously for Lance Armstrong's voice to come into my headphones and tell me I hit a new PR in the mile!  Aww I just love it!!
So my dilemma–Since I train in the Skechers Resistance Runners—  how can I use  this Nike Plus Ipod system with my non Nike running shoes?
Options I thought to myself…..
1.  I could cut a hole in the sole, under the sock liner  to place my sensor in. (eh too much work and not into tearing up expensive shoes)
2.  I could cut open the tongue and place the sensor in and sew it back up.  (yea, too much work)
3. I quit running altogether and get fat and lazy.  (hmm maybe?  my knees would agree to hang it up)
4.  Buy something that holds the sensor on top of the shoe. ( hmm.. hmm..)
hmm guess which one I chose?
# 3?
Nah.
jk  of course # 4 silly.
(and I found it for 50% off on a site called blueproton.com)
Its called the sportsuit relay by Marware.
( I copy and pasted the description below–)
Marware 8212-RNBK Sportsuit Relay Case for iPod nano 3G and Nike Plus
The Sportsuit Relay is designed to accommodate the iPod nano and Nike + iPod Sport Kit receiver and sensor. This case was specially designed to make Nikes innovative, i-Pod-based fitness technology available to all running shoes.
The Relay includes a protective Nike sensor pouch and convenient wristband carrying case. An armband expansion piece allows you to also wear your iPod on your arm two cases in one! The case completely but safely encloses your iPod to provide you the comfort and protection necessary for an active lifestyle. And, of course, you have the assurance of Marwares lifetime guarantee!
FEATURES:
•Accommodates the iPod nano and Nike + iPod Sport Kit
•Wrist/armband case gives two-in-one case, flexible wearing options; includes a protective sensor pouch that works with all running shoes
•Protective, durable neoprene and rubber construction supports active lifestyle
So …I thought I would pass this along just in case you wanted to use this technology and run in other shoes besides Nike.
Here is a direct link to the product  CLICK HERE (and no its not an affiliate link)
Make sure you check out the new Skechers Resistance Runners (SRR) too ….  http://jointheresistance.com
God Bless You And Keep Running!
…let us run with perseverance the race marked out for us.. . Hebrews 12:1